Perch on a Texas-rig 3.5" craw from clear shallow water. (Pictures by Sharky)
This has got to be the coldest dry morning for months. Despite the fact that air temperatures remained above freezing, it actually felt a lot colder than that. So, I guess Autumn's finally here, which did felt more like winter to me.
Fishing-wise, it's been months since I last fished at any of the canals in the region. In that, for us to chose to fish at one which is primarily shallow and gin clear on a cold day, I just have a feeling that the fishing is going to be slow.
The only follow of the day on spinnerbait. Wished I'd caught the fish.
Well, it started to feel like one of those days when you can throw everything into the water and don't get any bites. More so, I blew an opportunity by failing to catch a good size (about 2.5 lb) perch under a bridge. The fish had followed the spinnerbait right under my nose and ignored the bait. I reached for my softbait setup and the fish was gone in a flash. So, back to square-one again.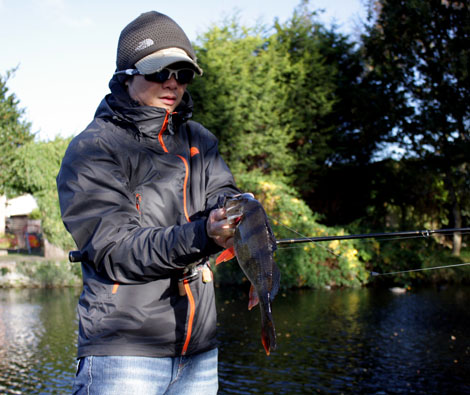 Unhooking the biggest fish of the day, which on a normal day, that's considered small.
While the conditions didn't make it any easy for us in clear shallow water, the local wildlife residents were trying their best to spoil it for us. Wherever we stopped for a lure change came the birds and ducks in full force, as if they were expecting a free meal.
Early morning at the canal. It was almost freezing cold.
Just before noon, I sensed a hit and it felt really good. I could tell that the fish is probably in the mood to go for the kill this time and I was right. Even though it was not a monster, I'd gladly take that on a slow day.