And now, the article as published in the October 2011 issue Rod&Line magazine.
The Art of Power Fishing for peacock bass.
Kevin VanDam couldn't be more correct when he's talking 'power fishing'. And although I didn't actually fish the way he'd suggested, still we were pulling out fish after fish. Despite the relatively good stint, I noticed that the peacock bass fishing in Air Kuning, Perak (Malaysia) has taken a slight dip. Compared to what I've experienced 6 years ago, the fishing there was nothing but great. Nevertheless and realistically, for such a relatively small lake, the fishing in Air Kuning is still pretty much very good.
One of the biggest peacock bass on a 1/4oz spinnerbait with a Berkley Powerbait grub tail as trailer.
Apart from the usual peacock bass, my friend Fishnut caught and released about 4 good size snakehead from various points of the lake. That was quite an amazing feat for a lake primarily colonized by the peacocks.
Fishnut with a big one on day one and some snakehead.
As for the lures and tackle, we were fishing with jerkbaits, ripbaits, jigs and spinnerbaits of which produced most of the good sized fish. We tried topwater at various points in the early morning but did not get any hits.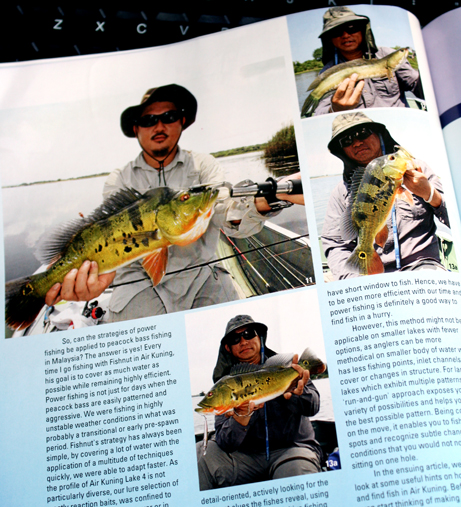 Snapshots of some of the decent sized ones.
Would I be looking forward to another trip to Air Kuning? You bet I do. Till then, thanks for reading and keep fishing.