The fishing blog returns… Before I bring forth the full details of this particular fishing trip, here are the latest updates from Oxford, England.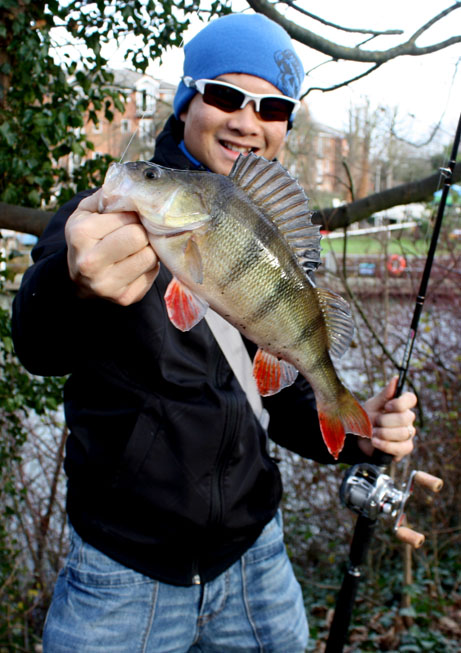 The first fish of the day. I miss-timed the first hook-set but the fish handed me a second chance.
Before the previous picture... pitching, setting the hook and landing the fish in between the branches is not really that easy on a steep bank.
I had actually wished for this trip to happen at a much earlier date, when angler Shota Konno was still in London. But sadly, that didn't happen. And, due to recent commitments, on many occasions, the trip was postponed numerous times. It wasn't till just a few days ago; I had my first perch fishing experience, the urban fishing way, in the city of Oxford. Although I did not catch loads of perch, the trip had been a success as quite a few decent size perch were caught and released.
So where do I start? As with most of my fishing trips, they usually start off slow. Weather-wise, it was supposed to be the peak of winter but it was unusually warm and quite windy in Oxford. The day started really slow. The stretch which was supposed to deliver was as literally dead quiet. For a warm day, it was really windy and it did not do the fishing any good.
The first hit didn't come until about two long hours later. If I hadn't made my way down this steep bank, which only the hardcore would go, I don't think I'd gained enough confidence to see through the short session. Fortunately and at that time, the reward could not be described by words. It was the perch for which I was looking for and it was quite a decent one. Although I've caught bigger ones in the past, the average size perch in this part in Oxford exceeds what I've experienced to date.
A view from Oxford.
After that, the fishing slowed again but thankfully, I'd still manage to pull out some small ones before calling it a day. So, that was day one. Stay tuned for more updates to come. Thank you for reading.
A small one from above the bridge. I was glad to be using a 12 lb Fluorocarbon line.
A good sign... No narrow boats.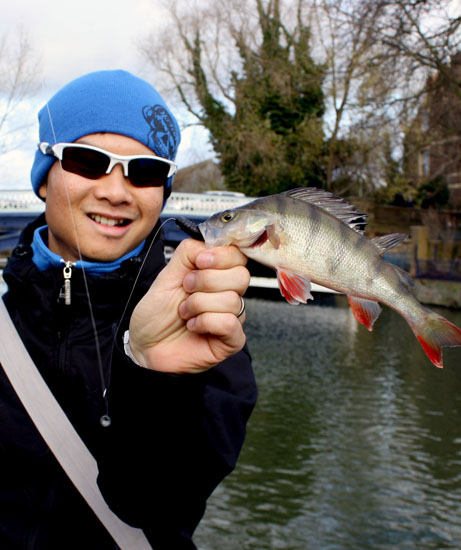 A small one from further upstream. On a day when fishing is slow, any size counts.