A fishy looking spot we found by chance but how do we get to the river?
I was supposed to re-build my cross country mountain bike but went out fishing with Nick instead. Actually, the plan was to have a few hours in one of the rivers in the city and hopefully catch a fish or two, or at least that was our plan.
As usual, the morning didn't start well. It was mainly overcasts and had raining the past three evenings. Considering the time of the year, it wasn't too bad at all considering that winter's just around the corner. In terms of fishing, we didn't have an agenda or a plan. Not even sure where we were going fishing, we drove around the city and stumbled upon a fishy looking weir by chance. And there we were ready to fish, but there was a slight problem… we were literally on the wrong side of the river and had to find our way to the opposite side.
Right place but wrong spot. Time to look at Google Maps.
Walking on water! (Don't try this at home)
Fortunately, it didn't take us long to find our way to the opposite side. Once there, it was just the case of hopping across a small stream to get to the better spot. Following that, it didn't take us long to catch a fish which actually came as a surprise… a decent brown trout and one of the few I've caught in an urban river (period).
Barely 5 minutes of fishing and it was fish on!
Surprise, surprise... A decent size urban brown trout.
A decent size male brown trout on a Mepps spinner.
Just barely minutes later, my buddy for the day caught another surprise. This time, it was another brown trout but a bigger one. It was practically his second fishing trip and he's managed a good size brown trout. That is an amazing feat!
Nick's first brown trout and a decent size one too. The fish hit the lure as soon as it cleared the water. He was at the right place at the right time. For the record, this is either his 2nd or 3rd fishing trip.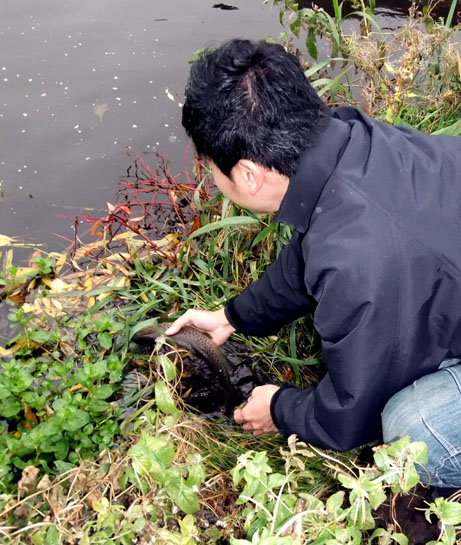 Only catch and release. 100% No kill.
Both trout were released to fight another day. Importantly, it looks like we've found a potentially good trout fishing spot which I would certainly go back for more urban trout fishing action. In all, we must have spent just under one hour fishing. Before we actually called it quit, we took the opportunity to gather some wild fresh watercress.
Time to gather some watercress. There were loads of them to pick and choose and it's free!
It's almost winter...
And, finally it was back to the business of re-building my bike, with the help of Nick at the 'bike lab'. Until next time, thanks for reading.
At the 'bike lab' with Nick.
And finally... my semi-new build Giant XTC hardtail XC mountain bike.