The fishing blog is back in action, this time this weekend, at a somewhat secret location in search of the monster perch. First of all, let's talk about the weather. Considering that it's autumn, the morning was untypically warm and the air temperature was pushing 19 °C! Apart from that, it was mostly overcast with spells of rain and it looked as though a cold front is approaching fast.
This is what I call a monster perch. The 3" YoMama craw strikes big time! (Picture by Sharky)
On this particular outing, the day started off quite well. With just a few initial casts, I landed a medium size chub from a shallow run. When the fishing turned slow, Sharky and I decided to head upstream. Along the way, a deep pool caught my attention. The pool looked fishy and it was quite a distance away. I took time to decide a spot to pitch. In just the first cast, there was a take and it was quite a subtle one. But unfortunately, I mistimed the hook-set. And amazingly, on the following attempt at the same spot, there was another hit. This time fortunately (call it second time lucky), the hook-set was well timed and what followed came as a surprise. Thinking that it was probably a good size chub at the other end of the line, the initial run was fairly typical of a chub, only this time, it held on for much longer. As it emerged from the fairly deep water, I could see stripes and it was big! Not wanting to risk loosing the fish, I went into the water just so that I could lip it to safety. Call me desperate but catching a perch of that size has always been special to me. The fish tipped the scale at 2 ½ lbs and Sharky's guess was right down to the decimal. After a few shots, the fish was released to fight another day. Of all the predatory species, I take the perch very seriously, especially those weighing over 2 lbs or more.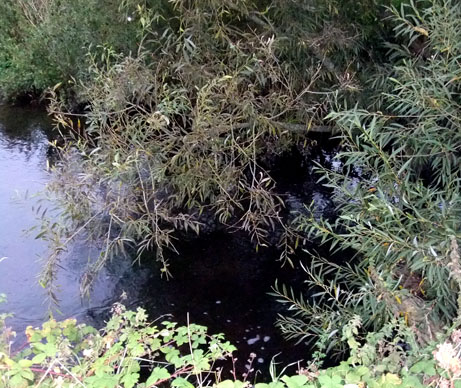 It's mostly cover fishing at this particular river.
Fishy looking? But there were not takers again. Only this time, it's probably the duck weed.
In all, the day was slow and so was the fishing. Once again, I'd like to thank Sharky for showing me around. Until next time, keep fishing and keep releasing.