A narrow boat under on the water under the blue sky.
The lonely photographer...
Well, you can't have it all. It's either the weather or the fish. This time, the weather won hands down, quite literally. Summer in Britain couldn't be better on this occasion. The temperature was pushing 26°C and it was simply marvellous. However, the hot and dry weather had quite an effect on the small stream and river. The water level was visibly low and the stream was almost stagnant. In all, it was not the ideal time to go fishing.
Camera! Action! A double take... Wow! I can see fish in the stream.
Small stream fishing in the summer in the U.K.
I had a feeling that we were in for some difficult times and I was quite right. Compared to what we've had in the early morning, all we could manage this time were some small perch. But nevertheless, we did have some great fun. I was glad that both my friends (Nick and Chloe) experienced the fun side of perch fishing in the U.K. As for myself, I was surprised that we'd even manage to catch anything.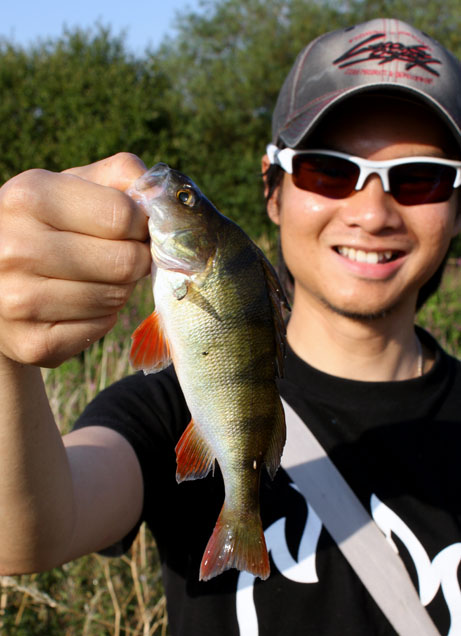 On a day like this, anything goes!
The small stream is barely visible.
In all, it's been a long time since I've been out fishing with that many friends. It's definitely a first for me since I started fishing in the U.K. Now, all we need is some of that 'good weather' so that we can go out fishing again. Hopefully, we'll be able to catch some big ones for a change. As of now, lets enjoy the warm weather while we can.
Nice fish and well done!
Wow! Nice fish there and good job!