Date: 24/04/11
Time: 1400 hours
Conditions: Overcast
Ambient Temp: 17 degree Celsius
Lure/bait: 3-inch YoMama craw
Line: Berkley 12 lb 100% Fluorocarbon
This year's spring heatwave has come to an end. Now, it's back to overcast skies. The canal is coming back to live after a cold winter.
New spot, new hope and that's what I'd like to believe. The Erewash Canal comes highly recommended by a friend. Nevertheless, the place lived up to its reputation. Considering the many coarse fish species typical found at this canal, I was there for the perch. And although some anglers might think I'm crazy for ignoring the shoals of big carps and breams, as for me bait fishing can wait, quite literally.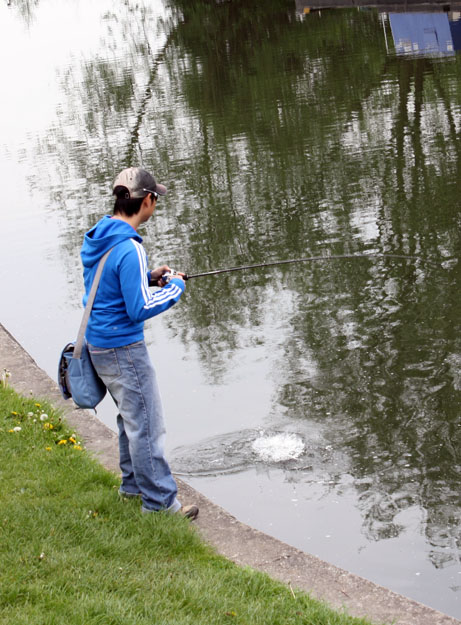 Fish on. Is it a big one? Dream on...
Now where's the line? Think 100% Fluorocarbon.
Now, on to the fishing, I was pitching my favourite soft plastic (3-inch YoMama craw) at a weed bed just in front of the lock overflow. All I could see was a small pike and shoals of bait fish. The conditions were near ideal but there were no takers. It wasn't long before my sights were set on the near bank. This time, my guess was right. Within just a few jiggles, I could feel a bite. The hook-set went well. I could see the fish and it was no doubt a perch. Although it was just a small one, it wasn't a bad start after all. The fish was released to fight another day after a few quick shots.
A decent size perch. But where's the bait?
Deep throat? I hope so...
Shock therapy, beware.
Until next time, thanks for reading.