This is Swamp God Outdoors. Please visit http://swampgodoutdoors.com/
And now… The PowerFishing Blog is proud to present to you 'Swamp God Outdoors' by Chris Licato of Fort Lauderdale, Florida, USA.
He's a great guy and experienced angler who runs a guiding service unlike any others I've seen before, specializing in pretty much everything from peacock bass, cobra snakehead, snooks, largemouth and many other exotic species in tropical Florida. Native or exotic, you name it; all is welcome at Swamp God Outdoors.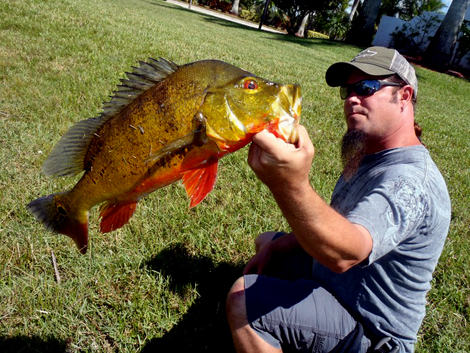 Wow! That's one heck of a dozer!!!
You'll be cobrafied, Florida style.
Unlike most guiding services, Swamp God Outdoors is not just about putting clients onto the biggest fish of the day; it's also about creating awareness to the general public that exotic species is just as fun to catch as native Florida one's. Importantly, it's all about embracing whatever that swims in the waters of Florida today.
A good day by the bank and a happy customer with a good size cobra snakehead.
Crowd control at Swamp God Outdoors.
No boat, no problem!
And sometimes, he just likes to make a cast or two...
So, if you happen to be in Florida and have some time to spare, make Swamp God Outdoors your first choice. Please visit
http://swampgodoutdoors.com/
for more details \m/