Once again, after a brief hiatus, the Fishing Blog is back again. This time, I bring you a sneak peak of some products from Italian bait and tackle company Seaspin. First of all, I'd like to thank my sponsor Nice Fish! Distribution for sending me these awesome looking products. What we are looking at here are examples of floating topwater baits, slow-sinking minnow jerkbaits and ripbaits, and finesse style soft plastics.
Conditions-wise, in my view, it is actually early days for topwater fishing here in England. From my last few trips out, the water temperature especially along the upper column feels quite cold to the touch. Nevertheless, it is no harm being well prepared because when the topwater bites hits, you just have to be well prepared for the occasion.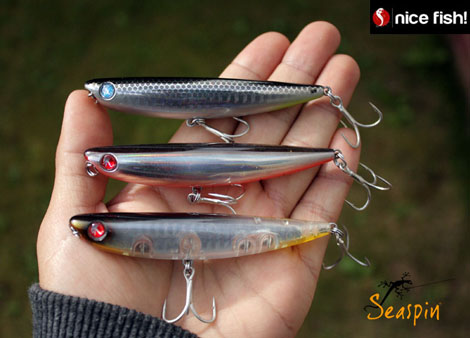 Seaspin Pro-Q 90mm topwater 'walk the dog' bait. This reminds me of the Sammy. Please visit http://www.thepikeshop.co.uk/)
Looking at some of these topwater baits from Seaspin, I find that they are generally similar to the very popular Luckycraft Sammy series. If you like to 'walk the dog' technique, the Pro-Q is worth a try and it retails at a fraction of the price of a Sammy! What better way to fish with topwater baits are braided lines from Sunline off course. My advice is, don't just go with the crowd and fish with a wire regardless of the bait or technique you are using. Fishing with a wire isn't the answer to everything because fishing a topwater with a wire just isn't going to work. It wrecks the presentation big time. Braid floats and topwater techniques go with braided lines hand-in-hand. Worried about getting your bait stolen by pike? Heavy braided line is your answer.
Seaspin Mommotti 115SS slow sinking jerkbait or ripbait. (Please visit http://www.thepikeshop.co.uk/)
Up next is the Seaspin Mommotti 115SS ripbait or jerkbait. This actually reminds me of some baits by Yo-Zuri which I can't really remember the name. Now this is actually the bait which suits current conditions because as you know, jerkbaits are my 'go to' baits in cold water. You may still be able to catch some of the action while water temperatures remain so for these few weeks or so. Therefore, I suggest that you give the Mommotti a try and decide for yourself. Just remember, a jerkbait is not a crankbait. To make it work, you just have to jerk and pause.
Seaspin 'shrimp' finesse style soft plastic bait. Please visit http://www.thepikeshop.co.uk/)
And now, for all you perch addicts like me, this is something to look at. Seaspin calls this the 'shrimp'. To me, it looks something like a larva of an aquatic insect. Whatever it resembles, the big ones can truly work well Texas-rigged while the small ones as no doubt finesse drop shot finesse style baits. Until I find time to test these babies, those big perch had better watch out!
So, where can you find these baits on sale? Please visit
http://www.thepikeshop.co.uk/
.