For me as a freelance angling writer, bass fishing's never been so great in China back in April. It was the post-spawn period and the lake was really low. But hey... who cares. I was catching fish left and right and was glad that all my patterns worked. Despite that, fishing wasn't really that easy because I had to work extra hard for those big bites.
A keeper size bass in South Eastern China on a 1/4 oz spinnerbait in midday.
The first few days had been awesome. Conditions were great and I was fishing with reaction baits for most of the time. One a good day, with a working pattern, one can expect about 30 keeper size bass. One of the techniques that worked well for me is the run and gun. Under the right conditions, this is my primary pattern for those suspending post-spawners holding close to laydowns along the banks in the main lake.
It's not a kicker bass but they do fight really well at this particular lake in South Eastern China (Jiangxi Province). Due to abundance of baitfish there, the bass are very well fed.
Now here's the catch, you need wind just to get the fish into a biting mood. Without wind, the lake fishes really slow and I mean dead slow, regardless of conditions. Without the wind, it's usually a slow grind in those deeper water. It's not just me, even other anglers found this lake rather strange.
A keeper on a Rawfinesse 'Mini-Scale' (courtesy of Rawfinesse.de of Germany).
For my spinnerbaiting duties, I was fishing with 12 lb test Sunline Siglon 100% Fluorocarbon with a Deps ZDV100H (Daiwa Zillion 100H platform) paired with a Palms Elua Molla 6'-7" medium heavy fast action jig and worm rod which in my opinion I think Palms should call it a spinnerbait rod. Overall, it's a superb combination, both on and off the water (2pc and travels well too).
No wind usually means no business. With conditions as such, I'd rather power fish in the main lake and leave creeks such as this one when it's time to grind.
Personally, I just prefer to power fish in fine weather if I can get reaction bites. But, with the unusually low water level, I had to stay off the shallows and look for points and drops instead. Surprisingly, most of my big bites came from within the main lake and none from any of the coves or creeks. But, importantly for me, that first two days spent learning the lake paid off big time for what was installed next. So please stay tuned for more sneak peak reports. Thank you for reading.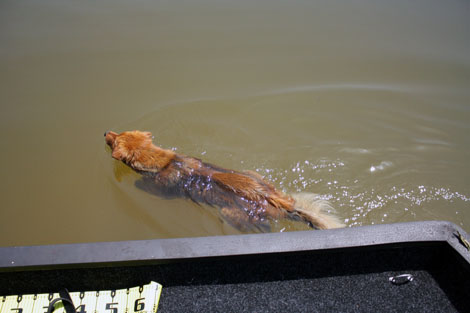 Paul the dog followed the boat all over the lake. He's really one good swimming dog.