The awesome 'Mini Scale' by Rawfinesse, Germany. A useful measurement device for those who aim to catch the biggest fish out there.
Of the many makers of fish measurement devices, Rawfinesse of Germany has some of the coolest products. Not just that, they are downright useful and practical. I'm saying this based on experience with what I've used over these few years, from home improvement measuring tapes to all sorts.
The products I received from Rawfinesse, the Mini Scale and some cool looking stickers.
What I've received from Rawfinesse recently is a product called the 'Mini Scale' and I would like to thank them for that. Well, don't let the word 'mini' fool you because it's not really the mini you know of. In terms of size, I would say that it's probably one of the best sizes for a portable scale, for bank anglers especially. The Mini Scale tops at 140 cm, which more than covers the length of those monster pike you'll ever catch by the bank.
In terms of size, the Mini Scale is compact and it fits the palm of my hand.
Another fine element of this product is its simplicity. It consists of a heavy-duty polymer plastic holder, rolled up scale and a Velcro secure strap and that's all. It is lightweight, compact and fits perfectly into my tackle pack and cleans down easily with just a wipe.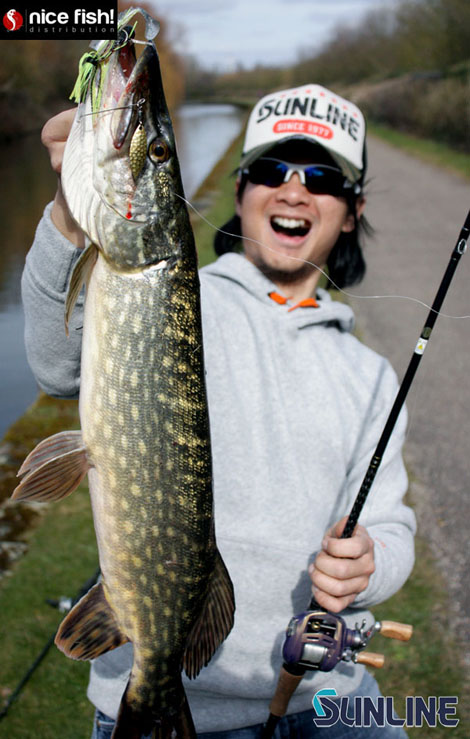 'Measure-in' for this decent size pike.
Though I've only been using it on just a couple of occasions, the first fish that I caught worthy of lying on the Mini Scale is a near 70 cm pike. Though it's not the big perch I was looking for, to the fish, it was an honour to be lying on a Rawfinesse!!! Till next time, fish hard, fish well and god bless.
Not quite the meter-size monster pike but a fairly decent one. My first fish on a Rawfinesse Mini-Scale in England.
Visit the Rawfinesse website to view other cool products.
For more information on some truly innovative fish measurement devices and other products, please visit
http://rawfinesse.de/